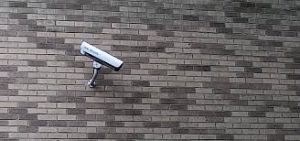 Closed circuit television (CCTV) camera systems are one of the best ways to protect your commercial property from theft or other criminal activity. Proper installation methods ensure that the camera system covers all angles and is capable of capturing video footage to protect merchandise and visitors alike. Here at Authorized Electric, LLC, we take the installation of CCTV camera systems to all new heights. We are business owners as well; we understand the importance of a properly working surveillance system.
Our preferred cameras capture very high resolution footage to help capture perpetrators in the event of theft or property damage. A crisp, clear picture with real time movement helps identify facial features as well as any distinctive characteristics such as a limp. We will ensure that your security cameras cover every angle of your property, which may even help discover how the alleged perpetrator got away.
You may choose to view the cameras in black and white or in full 1080p high definition color. A single receiver displays the cameras on a widescreen monitor to allow you full view of four cameras with ease. Additional monitors may be used to view more cameras.
We offer complete business systems that include four, eight, or sixteen cameras that may be mounted on the interior or exterior of your property. It is easy to see how a commercial surveillance system can protect your business. Areas that should be covered:
Entry and Exit Doors – Watch as every customer and employee enters or exits the building to ensure nothing is amiss.
Shopping Areas – Keep an eye on your merchandise and catch shoplifters in the act.
Cash Registers – Watch transactions to help protect employees from harm and to catch would-be robbers in the act.
Parking Lots – Cover every direction so you can see where the getaway car sped off to in the event of wrongdoing.
The Electricians at Authorized Electric, LLC, would like to thank you for stopping by our website today. We are located in Middle River, Maryland and we provide top notch electrical services to surrounding business owners and homeowners alike. We would love to show you how we can help you protect your commercial property by installing a CCTV system.
Call us at 443-579-5701 to discuss your upcoming project or to make an appointment to discuss the installation of a commercial CCTV camera system.