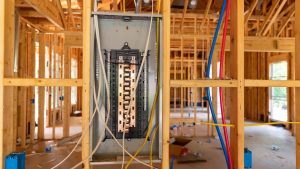 Residential electrical panel upgrades are quite common in areas with older homes. Homes more than 30 years of age are probably not up to code with the electrical wiring. This presents potential safety hazards for people who renovate and purchase new appliances. At Authorized Electric, LLC, we take residential panel and wiring upgrades very seriously because they allow homeowners to update electrical appliances with ease and confidence. We're homeowners as well; we understand the importance of being able to purchase new appliances without worry that the electrical wiring in the home won't handle the new load.
The Electrical Panel
The electrical panel provides electricity to all areas of the home. Electricity flows from the power company to the electrical panel where it is distributed as needed. A properly functioning panel is extremely important to the safety of your home and those who live there.
Residential Electrical Panel Problems
Flickering Lights – It's normal for the lights to dim slightly when the load increases, but if flickering lights become the norm, it's time to have the panel checked out.
Tripped Breakers – Breakers trip when the circuit is overloaded, meaning you're trying to pull too much power from a single breaker.
Hot Electrical Wiring – Electricity creates heat in the wiring, but it should never smell hot or cause the wiring or coating to melt.
Smelly Electrical Outlets – Outlets may get warm from time to time, but never hot enough to smell like burning plastic. You should never see a dingy smoky look around the outlets.
Appliance Roulette – You shouldn't have to unplug one appliance to use another. This means the wiring in the home is not up to code and not sufficient for what you need it to do.
Corrosion or Rust – The panel should not have any signs of corrosion or rust.
The Electricians at Authorized Electric, LLC, would like to thank you for stopping by our website today. We are located in Middle River, Maryland and we provide top-notch electrical services to surrounding business owners and homeowners alike. We would love to show you how we can help you protect your commercial property by installing a CCTV system.
Call us at 443-579-5701 to discuss your upcoming project or to make an appointment to discuss upgrading your residential electrical panel.