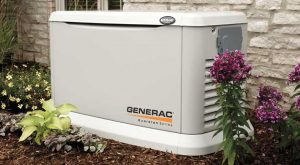 A power generator, or just generator for short, is a device that creates electricity in the event of a power outage. They're available in a variety of sizes and options from portable generators to whole home generators. At Authorized Electric, LLC, we're familiar with the various types and sizes of generators. We're homeowners as well; we understand the importance of maintaining a semblance of normalcy during a lengthy power outage.
Types of Residential Generators
Two types of generator are readily available for residential use; portable and standby. Each has its own unique set of pros and cons. Here are the major differences between a portable generator and a standby generator.
Portable Generator – This is mobile unit that may be hidden from view or stored in a storage building when not in use. Most portable generators require gasoline, diesel, or natural gas to operate. They produce enough power to keep a few different electrical items operable during a power outage. A 3500 watt generator, for example, may power a computer, television, DVD player, and lamp so you can watch television or play games on the computer during a power outage.
Standby Generator – This is also referred to as a whole home generator. It is a large unit that is installed in a discrete location within the home and connected to the electrical panel. It monitors the power flowing into your home and automatically kicks on when it senses a power outage. A whole home generator is designed to allow your home to operate as normal during a power outage.
Both systems are very useful during lengthy power outages due to hurricanes, severe thunderstorms, and snowstorms. We know the weather patterns here in Middle River and the surrounding area are quite unpredictable and that many area homeowners like to be well-prepared in case a storm hits.
The Electricians at Authorized Electric, LLC, would like to thank you for stopping by our website today. We are located in Middle River, Maryland and we provide top notch electrical services to surrounding business owners and homeowners alike. We would love to show you how we can help you protect your commercial property by installing a CCTV system.
Call us at 443-579-5701 to discuss your upcoming project or to make an appointment to discuss the installation of a whole house standby generator.